Share-it is an e-commerce solution by Digital River for buying software over the Internet. According to the rules of the European Commission, suppliers of any telecommunications, broadcasting and electronic services are obliged to charge VAT on such services when selling to consumers in the EU.
What if I am making a purchase for corporate use?
If the transaction is between two companies, the customer himself is expected to account for the tax. In order to confirm that you are a corporate customer, you must provide your VAT identification number.
When checking out with Share-it you will be given the option to enter your VAT ID. The VAT ID consists of two letters identifying the country and the country-specific number of digits. You can click the information icon for more details.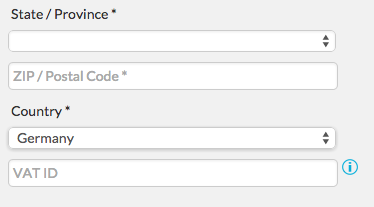 If you do not enter a valid VAT ID, Share-it will display the product price plus any applicable VAT for your country. 
If you enter your corporate VAT ID, the systeam will automatically validate the ID. Then, if the VAT ID is valid, you will not be charged for VAT.
What if I forgot to enter VAT ID during check out?
If you forgot to enter your corporate VAT ID, it can be added later and a partial refund for VAT will be initiated by Share-it. Please refer to Share-it customer support.
Check out the following resources for more information:
The information above is relevant only to customers within the European Union and does not constitute legal advice. The information is subject to change. 
As of June 2015 the EU VAT rules apply to some territories outside the EU: Monaco, Isle of Man and UK bases in Cyprus.